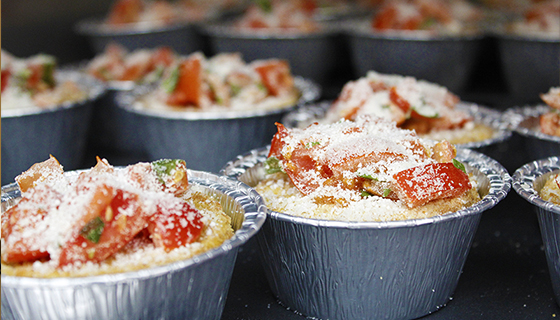 INGREDIENTS
2 average size aubergines
300 g of cherry tomatoes
300 g of mozzarella
Flour
Breadcrumbs
2 eggs
salt
Oil
basil
Parmigiano Reggiano
Oil for frying
50 ml of milk
Single portion aluminium dishes
With the LIFE domestic blast chiller you can prepare tasty single portions of Aubergine alla Parmigiana!
How often do your children come from school hungry? In only a few minutes you will have a homemade, healthy dish ready for them to eat.
PREPARATION
Peel the aubergines, cut to 1 cm thickness and coat with flour, ensuring that the whole surface is covered.
Slice the mozzarella, and dice the tomatoes and add a olive oil and basil dressing
Whisk the eggs, adding the milk and then coat the slices of aubergine with the liquid before covering them with breadcrumbs.
Pre-cool the LIFE blast chiller to -20°C
Heat the oil in a saucepan. Fry the aubergines and dry with absorbant paper to remove the excess oil.
Place the aluminium dishes on the racks supplied with the LIFE domestic blast chiller and place a slice of fried aubergine, a slice of mozzarella and some diced tomatoes in each one. Continue to fill the dishes in the same way, then finish with a generous portion of grated parmigiana.
When the LIFE blast chiller has pre-cooled activate the function DEEP FREEZING>VEGETABLES>FULL and use the temperature of probe.
When the cycle has concluded preserve the dishes in your freezer.
When you want to serve them, set the oven to 180°C and cook for 15 minutes. Remember there is no need to defrost them before cooking!
Buon Appetito!
https://www.coldlineliving.it/wp-content/uploads/2016/02/Abbattitore_Casalingo_Melanzane_Parmigiana.jpg
320
560
coldline_life
/wp-content/uploads/2015/10/logo-coldline-life1.png
coldline_life
2016-02-10 15:30:57
2017-03-21 16:26:13
AUBERGINE ALLA PARMIGIANA MIGNON