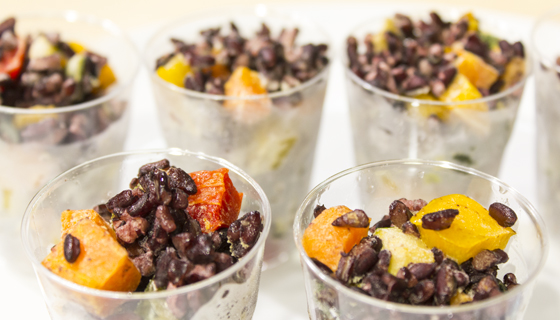 INGREDIENTS
200 g of Venus rice
2 courgettes
2 carrots
1 red pepper
1 yellow pepper
Salt
Extra virgin olive oil
Dried oregano
Rice salad is a great solution for lunch or dinner when you have company, but the risk of serving it overcooked is an ever present concern. However, there is a simple and unique solution to ensure that the rice arrives at the table cooked perfectly 'al dente': with the LIFE domestic blast chiller it can be chilled to 3°C. The rice can be divided into portions and deep frozen at -40°C, ready for when you need it. It can be defrosted in a few minutes, and it will taste as if it has just been freshly prepared!
PREPARATION
Bring a pan of water to the boil and add cooking salt and cook the Venere rice as per the instructions on the pack.
Meanwhile wash the courgettes and peppers, dice and put into a bowl and add a little extra virgin olive oil, a pinch of salt and handful of dried oregano.
Ten minutes before the rice has finished cooking pre-cool the LIFE blast chiller.
Drain the cooked rice and pour it into a steel bowl and start the program, BLAST CHILLING>RICE>BOILED RICE
Place the vegetables in a baking dish and cook in the oven at 200°C for 15 minutes. Chill the cooked vegetables in the LIFE blast chiller in order to maintain their nutritious crunchiness using the program BLAST CHILLING>VEGETABLES>DICED
When the rice and vegetables have been chilled, put them into a bowl and mix well and place in the fridge.
Serve with a drop of olive oil and some cooked ham.
If you wish to keep the rice for a longer period of time, divide it into single portions and deep freeze with the LIFE blast chiller. You can defrost the number of portions you need in just a few minutes, and they will taste as if they have just been freshly prepared!
https://www.coldlineliving.it/wp-content/uploads/2016/03/Abbattitore_Casalingo_abbattitore_domestico_abbattitore_riso_venere.jpg
320
560
coldline_life
/wp-content/uploads/2015/10/logo-coldline-life1.png
coldline_life
2016-03-14 10:46:19
2017-03-21 16:30:19
VENERE BLACK RICE WITH BRAISED VEGETABLES