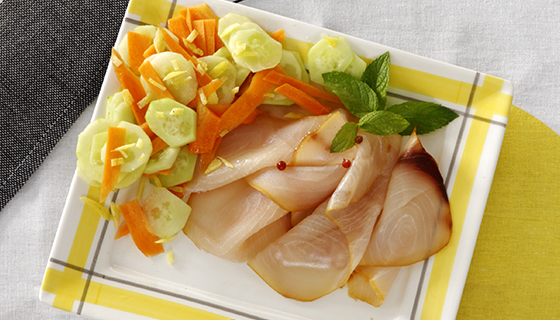 INGREDIENTS FOR 2 SERVINGS
6 thinly cut slices of sword fish
3 carrots
1 cucumber
Red pepper, to taste
Extra virgin olive oil
Mint leaves
In order to consume raw fish it is necessary to decontaminate it thoroughly by deep freezing it, thereby eliminating all traces of Anisakis, a very dangerous parasite present in fish.
PREPARATION
Start the LIFE domestic blast chiller pre-cooling cycle. When finished select the program DEEP FREEZING>FISH>FILLETS. Place the sword fish fillets on the racks, lined with baking paper, inside the blast chiller. Press START.
After a few minutes the fish will be deep frozen, and still in perfect condition, without any oxidisation or alteration to its colour. To complete the decontamination process put the fish into the freezer for at least 24 hours. When storing it, you are advised to put the fish inside a freezer bag.
A few hours before serving the sword fish, take it out of the freezer and place it on a tray or on the rack inside the LIFE blast chiller. Start the defrosting cycle. We recommend that you set the defrosting strength to 2 in order to conserve the quality of the product.
To accompany the sword fish make a salad of thinly cut cucumber, carrots and mint with a splash of extra virgin olive oil.
https://www.coldlineliving.it/wp-content/uploads/2015/06/coldline_life_pesce_spada.jpg
320
560
coldline_life
/wp-content/uploads/2015/10/logo-coldline-life1.png
coldline_life
2015-10-19 17:10:44
2017-03-17 14:22:04
SWORDFISH CARPACCIO